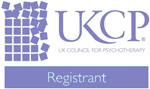 My BA is in Developmental Psychology, I have a Postgraduate Certificate in Education, MA in Special Educational Needs and MSc Psychology. I have further qualifications in Autistic Spectrum Disorders and a research interest in sex-related differences in cognition, specifically the theories of Professor Simon Baron-Cohen of Cambridge University.
I began counselling training prior to studying for a Postgraduate Diploma in Hypnotherapy and Psychotherapy. I sought further qualifications in Cognitive Behavioural Therapy, having found myself drawn to this theoretical orientation, taking Primary Certificates in CBT, Rational Emotive Behaviour Therapy, Multimodal Therapy and a higher Certificate in CBT. I am a great fan of Albert Ellis, the founder of REBT, who rejoices in individual diversity but maintains that we are all, by nature, irrational creatures.
For 6 years I was helpline volunteer and then committee member for a national charity, providing telephone counselling for those suffering from anxiety related illnesses, phobias and obsessive compulsive disorder.
I run group Dialectical Behaviour Therapy for clients with Borderline Personality Disorder and am an active member of the North West Personality Disorder Network, which aims to develop and deliver appropriate treatments for clients with PDs. I am a trainer/supervisor and teach psychology and allied disciplines at various levels.
For most of my adult life I have worked in business environments, including retail and service industries, which allows me some insight into work-related stress and lifestyle issues.  I have a busy private practice but make time for charitable work and educational studies. I keep up to date with vital research in psychology and brain science and refer to authoritative sources when assessing clients and formulating treatment strategies. I employ a 'psycho-educational' approach, which means that one of my main aims is to educate clients regarding current thinking on mental health issues.
I find a psycho-educational approach very powerful; clients are invariably intelligent and resourceful individuals who find themselves temporarily thrown off course by emotional turbulence. Given reliable information and appropriate support they often regain their bearings with some speed – and steer steadily to safer waters.