86, Wateringpool Lane
Lostock Hall
Preston
PR5 5UA
GB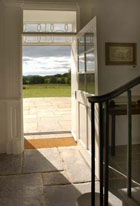 I am located 5 minutes from junction 29 of the M6; the M65 and M61 motorways also converge here. Follow the M65 to its source (signed Preston). You will find yourself facing a large roundabout with the Walton Fox to the right (near B&Q and Sainsbury's) and Leyland to the left. Go straight ahead (signed Preston) and over an incline. You will immediately meet another small roundabout. Take a left here (signed Lostock Hall). This is Brownedge Road; you will know it by its speed bumps! Continue over these for about half a mile, through one set of lights, and come to a mini roundabout at the top of Wateringpool Lane (school and microwave shop at this junction). Go down to the bottom of the Lane, past The Green on your left and cul-de-sac signs; 86 is down a slight hill, 3rd drive on the right. Come up the drive for secluded, off-road parking.
Bypass the side entrance to the house and approach the front door via the garden.
T: 01772 337228
E: info@psychotherapistpreston.co.uk
Map – Click to enlarge